The Golden Path to Profit
Courtesy of the leading management accounts package for legal firms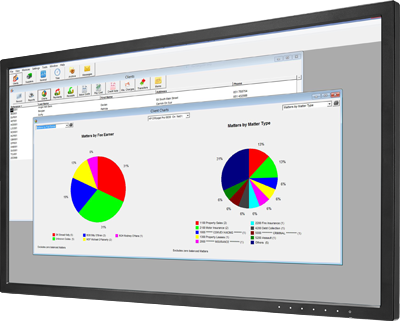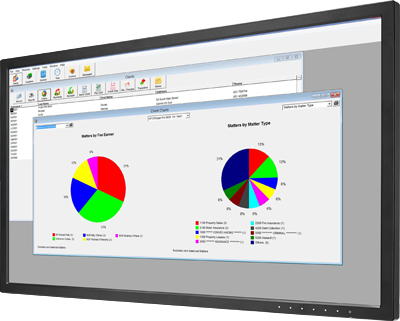 Features and Benefits of Harvest Law
Yes, it is hard to believe that so many features can be included in one accounting package, but remember that Harvest Law is the most powerful management information package available for Irish solicitors today.
Ease of Use
Comprehensive documentation provides:
Simple and practical guidelines
On-going assistance
Assurance of complete and accurate data entry
Other Features
Invoice or cash accounting for VAT
Maximum clarity and simplicity of screens
Error trapping and automatic calculation
User-amendable default descriptions
Full audit trail of entries
Cheque Printing
On-Screen Bank Reconciliation
Archiving System
Third Party Returns
Suppliers Ledger
Batch Processing
Invoice/Credit Note Production
Cheque Requisitions
Database
Uses existing clients names and contact details
Selection parameters defined by the user
Law Society Compliance
Correct maintenance and use of your Harvest Law software ensures complete compliance with the accounting regulations of the Law Society of Ireland. No more worrying about impending audits.
Management Information
Monthly financial statements with budget and previous year comparison
Identifies the performance of individual fee earners
Conventional columnar client ledger
Full details of various income and expenditure categories, partners current accounts, etc.
Bank balances and all bank transactions
Lists balances on client and office accounts
Solicitors Account Regulations
Automatic balancing of all ledgers and control accounts
Separate accounting for clients' monies
Automatic reconciliation of client funds/banks
Administration and Accounting Costs
As Harvest Law is a fully integrated accounting system this results in:
Automatic account balancing and cross checking
Continuous updating of VAT records thereby simplifying the preparation of VAT returns
Reduction in accounting costs due to time savings
Reduction in the work of the professional accountant
Flexibility
Copes with the largest and smallest of applications
Single and multi-user versions
Continuous updating to cater for the general and particular needs of the users
Time Recording
User definable time unit
Choice of fee earner or batch input
Monitor fee earner performance
Report costs earned against time spent
"Harvest Law's technical support is always prompt and efficient – we have nothing but praise for the helpful manner in which this is provided."
"Multiple User Harvest Law has made it easy for partners and solicitor staff to track and promptly bill time and expenses on matters for which they are responsible."
"With Harvest Law our accounting systems are always up to date and accuracy has greatly improved. Back-up help is prompt and friendly."